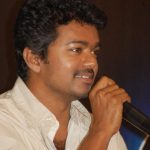 Ilayathalapathy Vijay drew huge crowds at his first Political rally at Nagapattinam.
At the meeting organised by Vijay Makkal Iyakkam (VMI), to condemn attacks on Tamil fishermen by the Sri Lankan Navy, thousands turned up.
Though Vijay did not make any political announcements, the meeting created a frenzy and showed how popular the actor is among the masses.
In spite of heavy rain in Nagapattinam area, thousands of people came to see him.
At one stage the crowds became uncontrollable and police had to use mild force.
When Vijay tried to speak, the microphone snapped as the crowd surged on to the stage to get a better view of the actor.
In a huff Vijay left the stage and was brought back after VMI representatives pacified the star.