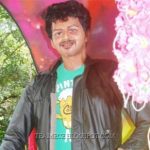 If you had thought Ilaya Thalapathi Vijay has fans who are mad after him only in Tamil Nadu please note that Kerala is giving a tough fight. Vijay has regular devoted fan clubs even in Kerala and they behave much similar to TN fan clubs, making a Vijay film release the festival of the season.
Recently when 'Kavalan' shooting was going on near Ottapalam in Kerala, Vijay fans in the state pleasantly stunned everyone by erecting a robotic statue of the actor there. The statue was life like and electronically moved to the beats of Vijay songs perfectly.
Vijay who knew of his fan base in Kerala but never thought they would be so affectionate was overwhelmed to see the love his Kerala fans bestowed upon him.