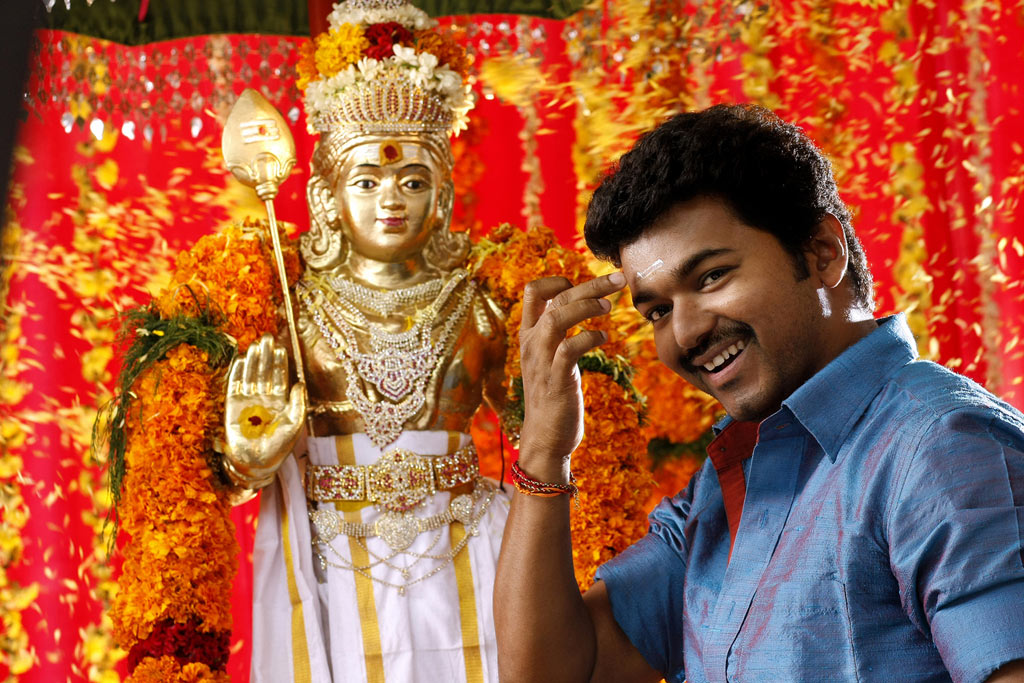 Ilayathalapathy Vijay's Velayudham, which is directed by Jayam Raja, is gearing for release in the month of August and will soon see the audio launch in July.
The film is reported to be a remake of Telugu movie 'Azad' that had Nagarjuna, Bollywood actress Shilpa Shetty and Late actress Soundarya.The film's shooting has been already done for 5 days at Palakkad and will have the other schedules soon after Movie Launch at University Hall in Chennai.
The story of Velayudham goes this way…
Genelia D'Souza is completely frustrated with the misdeeds of a criminal named Deva, who covers himself as a staunch follower of Bhagavath Geetha. But what the society doesn't know about him is that he is real troublemaker of many problems in society.
One day Genelia witnesses a group of baddies dying at a car accident. Apparently, Genelia D' Souza develops a fictional character Velayudham and he is the cause for all the heroic acts of this assassinations. Sooner, the fame about Velayudham starts spreading like forest fires across towns and cities.
There is a humble and peace loving guy called Velayudham (Vijay), who is leading a happy life with his widowed mother, sister (Saranya Mohan) and cousin girl (Hansika Motwani). Once, he comes to Chennai to withdraw the savings amount of Rs.5Lakhs from a Chit Fund Company.
At the same point of time, there are 5 bomb blasts occurring in the city out of which Velayudham escapes from every blast. Later, the news is spread that he is the real hero Velayudham assassinating the baddies.
Getting to know about it, Genelia D' Souza reveals about her deeds of frightening the baddies with a fictional name. However, Velayudham isn't interested in striving for this cause and plans to make his way back to Village soon after withdrawing the money meant for his sister's marriage.
But then, the Chit Fund Company happens to be a bogus and many innocent victims who invested lots of money commit suicide. Finally, Velayudham turns to be a real hero, thereby carrying each and every work of the fictional character in reality.
But the biggest twist occurs in the tale when Velayudham gets to know that Deva is actually not a Muslim, but a Muslim terrorist planning to destroy entire India by causing clashes between the religions.
Now it's up to Velayutham is revealing the true colors of Deva and saving the innocent people, who have laid their trust on Deva.