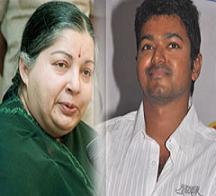 Most of the matters in Kodambakkam are decided on the basis of political power and election success. Actor Vijay was a supporter of DMK party. But since he had a rift with ex Chief Minister M Karunanidhi's grandsons, he fell away from them and turned his eyes towards AIDMK's camp. But he did not outwardly show his support to them. At this point of time the elections were held and Vijay was also acting in Velayudham.
Aascar V Ravichandran was not clear in his mind to whom to sell the rights. There was news that he was speaking to Sun TV about this matter. But Vijay was very particular that this film should not go to Sun TV network. So Ravichandran decided to keep this matter on hold till 13th of May. Now AIDMK has won the elections. This morning when the news started trickling that AIDMK is on the lead, the trailer of Velayudham was aired in Jaya TV.
Now the question is whether Jayalalitha will attend the audio launch function is to be held tomorrow. Velayudham is 52nd film of Vijay produced by Aascar Ravichandran. This film is directed by Jayam Raja. The film is being released on 22nd June which happens to be the birthday of Vijay. The audio launch function is to be held on 14th of May in a very big way at Nehru Indoor Stadium. AIDMK General Secretary J Jayalalitha has been invited as Chief Guest and she is supposed to release the audio CD. But since AIDMK had grabbed maximum number of seats, Jayalalitha will become the Chief Minister. So it is doubtful whether she will attend this function since she will be busy in forming the new ministry.