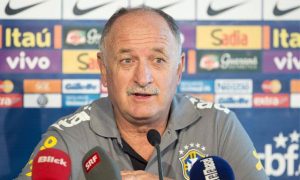 Brazil coach Luiz Felipe Scolari said Sunday it would be "stupid" to think his team would consider playing deliberately for a draw against Cameroon in order to choose its second-round opponent at the World Cup.
Scolari dismissed any chance that Brazil would not try to win Monday's decisive Group A match in Brasilia.
"You have to win the match, you have to advance to the next round," Scolari said. "Some people have been saying that we might consider playing to choose our opponent, but they are either stupid or ill-intentioned. We have to play to advance, not to choose anything. We have to play to win."
Brazil, Mexico and Croatia are still in contention to advance from Group A. Netherlands and Chile are playing to determine No. 1 and No. 2 in Group B _ the winners of these groups next play the second-place team in the other.
Brazil needs at least a draw against Cameroon to guarantee a berth in the round of 16. A win will likely secure first place in the group, but even a loss could be enough for the hosts to advance depending on the result of the match between Mexico and Croatia, which will be played at the same time in Recife.
Netherlands and Chile play in Sao Paulo before Brazil's match on Monday. Both teams have already qualified for the next round and a draw will secure the Dutch in first place. The Netherlands eliminated Brazil in the quarterfinals of the 2010 World Cup in South Africa.
Scolari dismissed any nation of the possibility of match fixing in Monday's match because Cameroon is already eliminated.
He said even the suggestion of "match manipulation" was "disrespectful to Cameroon, not only to us."
Brazil, the only team to play in all 20 World Cups, has advanced to the second round in every tournament since 1970. This is one of the few times that the five-time champions haven't reached the last group match with a spot in the round of 16 virtually secured.
"If we had beaten Mexico we would be a lot less anxious ahead of this match," Scolari said. "But we know that we can advance with two of the three results."
Brazil opened with a 3-1 win over Croatia before being held to a 0-0 draw by Mexico. Cameroon began the tournament with a 1-0 loss to Mexico and then fell 4-0 to Croatia.
Cameroon is already certain to start without its captain and most experienced player, Samuel Eto'o, who has a right knee injury.
Scolari said Brazil will play with the same lineup he used in the opening win against Croatia, with Hulk in attack. The striker missed the match against Mexico after a left leg muscle injury.
"We could change a few things if we had already advanced," Scolari said. "But now we have to use what we think is our best team. We have to do everything possible to advance."
Brazil will be playing its 100th World Cup match on Monday, becoming the second team to reach the milestone, after Germany.