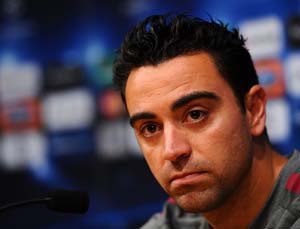 Xavi Hernandez, Spain's leading playmaker in its run of three major titles, has retired from international duty after a disappointing World Cup.
"I have taken the decision to leave the selection," the 34-year-old Xavi said. "I think my time has ended."
Xavi was the key component of Spain's tiki-taka passing style during its unprecedented run of winning the World Cup in 2010 and two European championships in 2008 and 2012.
He was voted the best player of the 2008 European championship. In that final he made the critical pass to Fernando Torres to score the winning goal in its 1-0 win over Germany.
"It has been a marvelous time, a fantastic time for me, and I am proud of being here so many years and for all the victories," said Xavi. "My time is over. I wish (the rest of the team) the best. From now on I will be another fan of the national team."
Xavi said that he had planned to leave the team after helping it defend the European title in 2012, but coach Vicente del Bosque persuaded him to stay on through the World Cup in Brazil.
But Spain flopped at this summer's World Cup, losing its first two games and subsequently exiting the competition in the group stage. Xavi says being benched for that second match against Chile was key in his decision to retire from international duty.
Xavi made 133 appearances for Spain, earning 100 victories.
He says he will continue to play for Barcelona, with two years remaining on his current contract