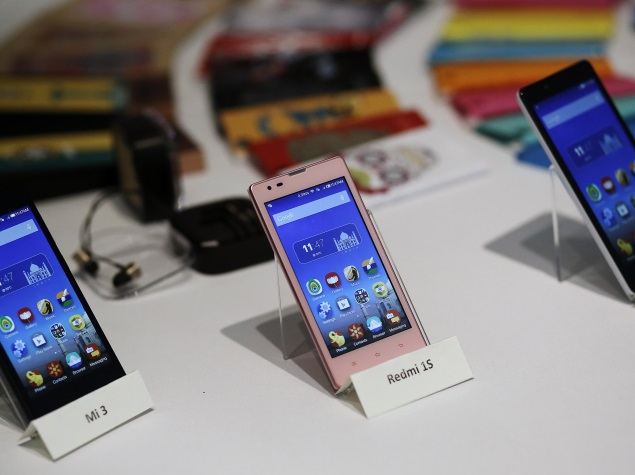 Chinese handset manufacturer Xiaomi, often referred as the "Apple of China", plans to launch its flagship Mi 4 phone by the year-end in India and also plans to set up its Mi Home experience zone in Bangalore within four to six months, a top company official said.
"The next few things that we will be launching are Mi 4, our flagship product; Mi pad, which is a tablet and Mi Band, a health band. Xiaomi Mi 4 will come to India towards the end of the year, post-Diwali in all likelihood," Manu Kumar Jain, Xiaomi's India head of operations, told IANS in an interview.
The company's second product, Redmi 1S (Review I Pictures), was launched Tuesday, with registrations continuing till Sep 2. Redmi 1S will retail in India at Rs.5,999. The company has entered into exclusive partnership with e-commerce site Flipkart to sell all its products.
"Redmi Note, which is the elder brother of Redmi 1S, with a 5.5 inch panel, will hit the market around three-four weeks from now," said Jain, the co-founder of e-commerce portal Jabong and who earlier worked with McKinsey & Company.
The company launched its first product, Xiaomi Mi3 (Review I Pictures) on July 22 "and we have sold around 95,000 units till now," Jain said. The company opens flash sale once a week for the phone, which costs Rs.13,999.
Xiaomi has also set up 35 service centres across India, including two exclusive Mi service centres in Delhi and Bangalore, to ensure after-sale services for its customers. "We want to expand service centres to six. They will be in Mumbai, Hyderabad, Chennai and Gurgaon."
Saying that Xiaomi does not believe in number targets, Jain said the focus was on the right inputs: "The best service centres, the best products and ensuring that products do not have issues. We ensure the software is great and customised for Indian customers and the pricing is right. If the inputs are right, output will follow, which is the number of phones that we are selling."
As for the experience zone in India, Jain said: "We plan to have a Mi Home in Bangalore within four to six months."
"Mi Homes are there in China. The experience zones have a huge area. We convert it into a Mi store. Products are displayed with a huge amount of accessories and this also acts as a service centre. A small lounge or cafeteria is attached where people can enjoy themselves," Jain explained.
Talking about alternative channels of sales, Jain said: "We might start selling through our own website mi.com. We will continue to sell through Flipkart. No timeline has been set so far. Setting up e-commerce operations from scratch takes time in India. In many countries, like in Singapore, we sell through mi.com."
The Indian site is so far used for marketing alone and no purchases can be made from there.
As for target customers, Jain said: "Our target audience is the youth and the tech savvy. We believe that this population will grow, will be the dominant and people will buy online. Our products are comparable to any other Rs. 30,000 – Rs. 40,000 device available in the market."
Xiaomi sold 26.1 million devices in China in the first half of 2014.