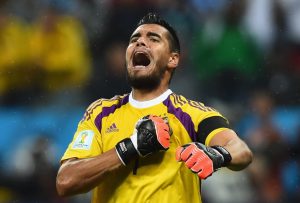 Sao Paulo: Argentina goalkeeper Sergio Romero told his compatriots to "enjoy the moment" after saving two penalties in the semi-final shootout win over the Netherlands on Wednesday to send his country into their first World Cup final since 1990.
"Enjoy the moment, we will enjoy it and tomorrow we will start working for the final," he said in a televised interview.
"I feel immense happiness, I`m really happy with everything. (Penalties) are a question of luck, that is the reality. I had confidence in myself and, fortunately, everything turned out well.
"Hope has been intact since day one," he added.
Coach Alejandro Sabella said it had been a very difficult and tight game.
"I`m very happy because we reached the final and now we will see what we can do," he said. "We will give everything as usual, with humility, work and 100 percent effort." Substitute Sergio Aguero converted a penalty in the shootout.
"It means so many things, a lot of people didn`t think that Argentina would be in the final, but we know what a good team we have," he said.