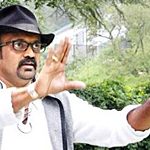 The 'Ghajini' duo are back together again filming '7am Arivu.' This film is touted to be a sci-fi thriller with spell-binding special effects and a first-time pairing of Suriya and Shruthi Haasan. Another first of this film is the villain, Johny, who has landed in India for this film straight from Vietnam.
We had informed you earlier that the cinematographer of '7am Arivu,' Ravi K. Chandran had to leave for attending his prior commitment to Bollywood for the cinematography of a Hrithik Roshan film that is being produced by Karan Johar. But it looks like Ravi's stint with his Bollywood filming ended abruptly when the cinematographer had an opinion clash with the director of the film.
The next thing we know, the cinematographer joining the '7am Arivu' team to continue his work here. Ravi's coming back seems to have made the entire team happy. Suriya, a master of makeovers is touted to appear in triple avatars never-seen-before. Suriya who also learnt juggling for the film has also done some gravity-defying circus performances in the film.
Sources close to the film's unit have suggested that the actor will be performing the stunts on stage for the music launch event of '7 Am Arivu.' All these tid-bits work as boosters for the numerous fans the actor has got across the globe, who are looking forward to the film eagerly!