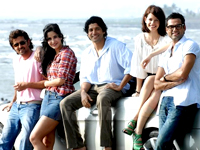 'Dil Chahta Hai' might have released a decade back in 2001. But it was such a landmark film that every scene is still etched in the hearts of the audience, the movie was also the debut film of Farhan Akhtar as a director.
She is directing 'Zindagi Na Milegi Dobara' with Hrithik Roshan, Katrina Kaif, Brother – Farhan Akhtar, Kalki Koelchin and Abhay Deol in the lead roles.
During the first-look launch of 'Zindagi Na Milegi Dobara' it was revealed that the movie revolves around the road journey of three friends. This led the people to connect the movie to her brother's 'Dil Chahta Hai' and wondered aloud if the movie will be a sequel to this former blockbuster.
Answering these, Farhan expressed that his sister's 'ZNMD' has no connection with his debut 'Dil Chahta Hai,' except for a road journey, which can't really be taken as a comparison.
However, Zora's reaction to this was quite different. She told the media that she had worked as an assistant director in 'Dil Chahta Hai' and if it will make people think 'Zindagi Na Milegi Dobara' will be on the same note as the blockbuster 'Dil Chahta Hai,' it's only a compliment.
The movie is all set to release this July and is already eagerly looked forward to…