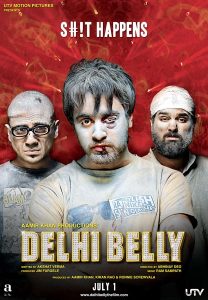 If Aamir Khan feels his forthcoming production venture Delhi Belly will affect his image as a family entertainer, director Abhinay Deo says the language used in the adult comedy might offend a section of the audience.
'Honestly, I think a lot may get offended with the language used in the film. Of course, it's completely youth oriented,' said Deo.
Releasing July 1, the film has been scripted by Los Angeles-based Akshat Verma, who studied movies at the University of California. Releasing July 1, it stars Imran Khan, Vir Das and Kunal Roy Kapoor.
'The script is outstanding. It's so funny. As a director I could take that script and go further. It's a very my kind of a film,' said Deo.
Though it is coming just after his directorial debut Game, Delhi Belly was shot first. Abhinay assures us that both Delhi Belly and Game are films from absolutely different genres, and  treatment was completely different.