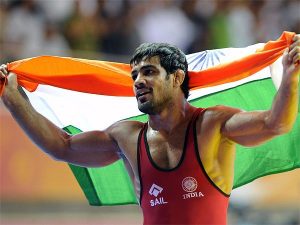 Yogeshwar Dutt will lead India's challenge in the Olympic wrestling competition on Saturday after Amit Kumar and Narsingh Pancham Yadav crashed out of the competition here.
Dutt will take on Bulgaria's Anatolie Ilarionovitch Guidea in the opening round of the men's 60 kg freestyle wrestling event.
India's best bet in the sport, Sushil Kumar, will fight it out in the 66 kg category on the concluding day of the London Olympics on Sunday.
The Indian wrestlers started their Olympic campaign on a disappointing note with Amit and Pancham Yadav failing to win any medals.
Narsingh Yadav also bowed out of the Olympics, losing his opening fight in the men's 74 kg event. Eighteen-year-old Amit, the youngest-ever Indian wrestler in the Olympics, raised hopes of a bronze medal after he moved into Repechage 2.
But there he lost 0-3 to Bulgarian Radoslav Marinov Velikov, a Beijing Games bronze medallist, failing to qualify for the 55 kg category's bronze medal match. Amit, who had received a first round bye, had won 3-1 over Iran's Hassan Sabzali Rahimi in the pre-quarterfinal.
The Indian, however, failed to repeat his performance and lost his quarterfinal bout 1-3 to Georgian Vladimer Khinchegashvili. However, it was Khinchegashvili, who gave Amit a lifeline by qualifying for the final round. But the Indian found it tough against the Bulgarian, a former world champion, in Repechage 2.
Narsingh was not so lucky as he suffered a first round loss to Canadian Matthew Judah Gentry 1-3.Gentry then lost his quarterfinal bout 1-3 to American Jordan Ernest Burroughs, ending Narsingh Yadav's hopes of making the repechage round.