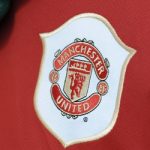 Manchester: An already strange Premier League season ploughed new depths of the bizarre on Friday when Manchester United and Arsenal geared up for their top-of-the-table match by swapping thoughts on fashion.
Unpredictable results have made this one of the tightest and unusual title contests in years, while the unseasonably cold weather has brought with it the phenomenon of the snood — a cosy neckwarmer favoured by several players this season.
The woolly accessory has divided opinion as much as any controversial penalty might and when league leaders Arsenal visit second-placed United on Monday, only one team's players will consider donning the garment.
United boss Alex Ferguson has banned his players from wearing them, according to local media, saying: "Real men don't wear things like that", while Arsenal manager Arsene Wenger reckons the snoods help to prevent injury.
"I get advice from the medical team," Wenger said on the club website (www.arsenal.com). "We had some players with neck problems before the Aston Villa game, (Samir) Nasri and (Marouane) Chamakh.
"That's why we decided to let them wear them because they had some medical issues."
United defender Rio Ferdinand was adamant his team mates would not be following a trend that Manchester City's ex-United striker Carlos Tevez has embraced, writing on Twitter: "U won't see a Man Utd player wearing a snood".
Extraordinary Results

Talk about snoods before the week's biggest game is in keeping with a season that has featured a series of extraordinary results that have created a table where the top four are each separated by only one point.
The drop zone is only 11 points away from fifth place, meaning any team stringing together a couple of wins can jump from a relegation battle to challenging for Europe very quickly.
Managers are scratching their heads.
"In the normal situation, in a normal league, you would say this is probably the most important part of the season," Ferguson told reporters.
"But in the way that this league has turned out it is difficult to assess. It's changed, there were slight indications of that last season but more so this season because Chelsea, Arsenal and ourselves have dropped points.
"We're all probably analysing how we have dropped points but it's just the nature of the league."
United are second in the table with 31 point from 15 games, a point behind Arsenal who have played a game more. Chelsea are third on 30, while fourth-placed Manchester City have 29.