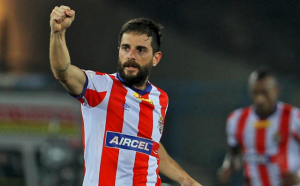 Atletico de Kolkata have decided to appeal against the second yellow card shown to midfielder Jofre Mateu Gonzalez during the ISL game against Chennaiyin FC.
"Atletico de Kolkata team management have appealed for a review for the second yellow card shown to Jofre Mateu Gonzalez during the match between Chennaiyin FC and Atletico de Kolkata which also accounts for a red card," the team said in a statement.
"Tomorrow the team management will submit the video footage of the incident as well to Match Commissioner. Our request is that he looks into the matter and reviews the incident and if it is found that the decision of showing the second yellow card was wrong then our request is that Jofre should be allowed to play next match."
Gonzalez, one of Atletico's key midfielders, was shown the first yellow card for pulling down Chennaiyin skipper skipper Elano Blumer.
The second yellow and the marching orders were handed to him after he went down in the penalty box despite minimal contact with Gourmangi Singh in the second half.