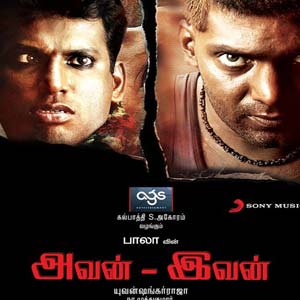 The audio launch of AGS Entertainments Avan Ivan was a grand affair, held at a city hotel on Moday, April 18. The audio was released by Bala's mentor Balu Mahendra and received by all present.
The attendees included Bala, Yuvan, Vishal, Arya, Janani, Madhushalini, Haricharan, Ramakrishna, GM Kumar,Suchitra, Na Muthukumar, Ambika, RK and Prabha amongst others. RK has done a role in the film and was grateful to Bala for keeping up his promise made when he had approached him for a role in Naan Kadavul.
Na Muthukumar narrated how scared he was to accompany Bala to the dense jungle areas where they shot, with wild bison roaming freely. He added, "Yuvan is going to go to the next level with this music." There are four songs in the film.
Balu Mahendra was all praise for Bala and the cast and crew. He said, "I know Yuvan as a kid and he would never smile even. Now I can hardly believe he's the same chap who makes people dance to his wonderful music! I am glad to see how my students are doing in life and have carved their own identity and individuality. I really enjoy it. I congratulate Arya for his role in Naan Kadavul and I'm happy that I am meeting Ambika after fifteen years again!"
Yuvan said that working with Bala was very relaxing since he gave over two months time for each song. "Our music is going in a particular format in films but this movie will break that trend. The last two reels have a spectacular re recording with only Arya and Vishal performing", said Yuvan.
Bala said, "I thank Arya for this project for it was he who insisted I meet the producers and Vishal for this movie. This is the first time I have had no problems with my producer! GM Kumar who has done a role has come almost very close to Sivaji's performance. Working with Yuvan was no strain at all. We spoke on the phone and he arranged the voices and recordings and gave me a complete package. And lastly I want to thank Balu sir because what I am today is because of him only."
The film is an all out comedy where Vishal plays a squint eyed boy and Arya is his brother. The two heroes speeches showed their camaraderie and kept everyone in splits.