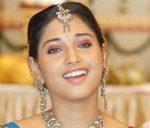 Actress Tamanna has been nominated for the Best Actress and Kishore Kumar (Dolly) for the Best Director for the prestigious V Shantaram Awards 2009 for the Telugu film "Koncham Ishtam Koncham Kashtam". The highlight of this award is that it enables the entire Indian cinema with a cross-section of languages to compete on a single platform.
The Rajkamal Academy of Cinematic Excellence (RACE), which for the last 15 years has been annually presenting the awards named after legendary filmmaker V. Shantaram (1901 – 1990) who made films like like Duniya Na Mane (1937), Dr. Kotnis Ki Amar Kahani (1946), Amar Bhoopali (1951), Jhanak Jhanak Payal Baje (1955), Do Aankhen Barah Haath (1957) and Navrang (1959) among others.
Shantatram won the Filmfare Best Director Award for Jhanak Jhanak Payal Baaje and National Film Award for Best Film for Do Aankhen Barah Haath. He was awarded the Indian film industry's highest award, the Dadasaheb Phalke Award in 1985 and the GoI's Padma Vibhushan in 1992.
Kiran Kumar Shantaram, Chairman RACE, said the winners in different categories of the awards would be announced on December 21 in Mumbai.
Vikram and Tamanna Win Edison Awards
For the last two years, the Edison Awards are being given to people who have achieved in the cinema field. This award function for the year 2009 is being held in Chennai on 14th February.
J Jayakumar who is organizing this award function said," Every year various awards are being given, but this Edison award has got some significance. These awards are being given by popular Tamil TV channels situated in Singapore, Malaysia, Canada, UK and Dubai. For the year 2009, Vikram and Tamanna Bhatia have been selected for the best actor and actress respectively.
Apart from them, other talented actors, actresses and technicians will be felicitated with awards. The important highlight of this program is that artists from the 7 countries TV Channels will participate in the culture programs along with our stars. The award function is to be held in Lady Aandal School situated at Chetpet in Chennai at 6 pm on 14th February…"
Tamanna wins prestigious award
Actress Tamanna had won the prestigious Shantha Ram Award. This is in recognition to her role in the film 'Konchem Istam Konchem Kastam'. She is the first south Indian actress to win the award. These awards are given to Indian cinema as a whole. The movie's director Kishore Kumar has also won a award for Best Debut Director.