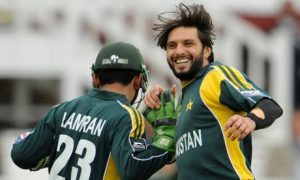 Pakistan cricket captain Shahid Afridi has said that the redeveloped Eden Park cricket ground here is okay for Twenty20 internationals, but not for 50-over one-day internationals.
The pitch at the Auckland ground has been rotated 45 degrees clockwise, so that it runs parallel to where the halfway line of the rugby field would be. The result is longish boundaries square of the wicket, but short ones down the ground, stuff.nz.co reports.
"I must say it's small, but the people who are coming for Twenty20 cricket, they want to see some big shots, so for Twenty20 I think it's a perfect ground."
Afridi didn't think the new layout made the arena of adequate standard for one-dayers.
New Zealand skipper Ross Taylor had a different view.
Taylor believed bowlers would still get reward in ODIs if they bowled well and to a plan.
"Those boundaries square are some of the bigger ones in the world."
He also said the previous alignment made Eden Park a ground that favoured left-handed batsmen, whereas now things had probably been evened up.