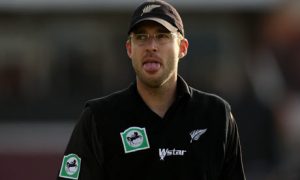 Skipper Daniel Vettori has said that he is on target to return to the Black Caps squad for the test series against Pakistan.
Vettori, who is sitting out of the three Twenty20 matches against the tourists to rest an injured back, is looking to get some cricket under his belt before the first test begins in Hamilton on January 7.
He is keen to play for a New Zealand 11 against Pakistan in a three-day fixture in Whangarei from January 2 to 4, while another option is the domestic T20 final on January 2 if Northern District make it to the championship decider.
In Vettori's absence from the Black Caps, Ross Taylor has taken over the captaincy and on Sunday led New Zealand to a five-wicket T20 win over Pakistan in Auckland.
Vettori said he feeling "pretty good" physically, had managed his back well and, if he really needed to, could have played in the T20 series.
"But looking forward to the test matches and how important that series is, I wanted to be as ready as possible for that," he said.