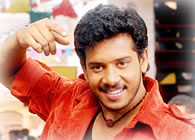 Bharath is doing the role of a gym trainer with six packs in Perarasu directed Thiruthani.
The young actor has good vibes with the director as they had worked earlier in Pazhani, an average grosser.
Perarasu believes that among the young actors, Bharath has a good chance to emerge as a future action hero.
The gym trainer role in Thiruthani is ideal for the actor to flex his muscles . Bharath also wants to shed his lover boy image with this film.
Sunaina plays the female lead in Thiruthani which also has Raj Kiran, playing the army man, Vinod and MS Bhaskar.
For the first time Perarasu has handled the story, screenplay, dialogues, direction, lyrics and music for the film.
Thiruthani will be Bharath's big summer release in April.