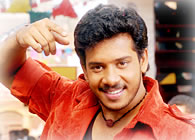 Bharath is on cloud nine right now as he being appreciated for his performance in Vaanam. He performed brilliantly as an aspiring rock star in the film and all those who saw the film showered praises on him.
Bharath says "I played a great role in Vaanam and happy to be a part of such sensible film". It is not only Vaanam behind his happiness but there is something more. Bharath is hoping that his forthcoming films Yuvan Yuvathi, Thiruthani and 555 will place him as a bankable star at the box-office.
On talking about 555, Bharath says "Currently we are busy shooting the first schedule and I am giving my 100 percent to the film. It is a complex role which pretenses a challenge to an actor in me. 555 is directed by Sasi and he is already popular with films like Sollamaley, Roja Kooottam and Poo. Sasi is bringing a complete new subject which is an inspiring project.".