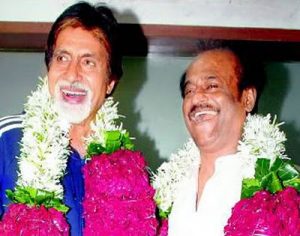 Rajinikanth and Amitabh Bachchan will be finally sharing the screen space after 20 years.
Amitabh will be seen in a cameo role in Rajinikanth's trilingual movie Rana. According to sources, Amitabh will be seen in a few scenes in the second half of the film. But other details about his character have been kept under wraps. In Rana, Rajinikanth does triple roles.
Rajinikanth and Amitabh have been good friends for a long time. They have earlier been a part of Bollywood films like Andha Kanoon and Giraftar. The last time the two legends shared screen space was in Mukul Anand's Hum in 1991.