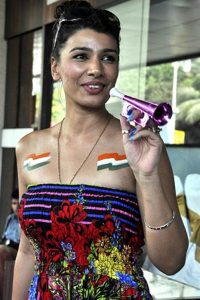 India's crushing defeat of Pakistan in the World Cup cricket match in Mohali Wednesday brought cheer to Bollywood Stars like Abhishek Bachchan, Sushmita Sen, Anupam Kher and Shilpa Shetty hailed the boys in blue for overcoming the Pakistani challenge.
This is what they had to say on social networking site Twitter:
Abhishek Bachchan: Maa tujhe salaam… Aur SACHIN aapko bhi! Well done team India… Diya ghumake!
Shilpa Shetty: INDIA WON..n I cried!:)tears of joy!Class act by the Indian team, aggression with maturity, lethal combo! Deserve 2 b in the Finals, fab job (sic)
Rahul Bose: Done! And dusted! The battle of the captains is decided beyond doubt!
Sushmita Sen: Sooooooooo proud of INDIA!!! Truly played like World Cup winners!!! WE ARE READY SRI LANKA!! Bring it on!!! Thank you PAKISTAN for a memorable World Cup Semi finals… a worthy n a graceful opponent!!! WELL PLAYED!!! God bless!!!!
Anupam Kher: Congratulations!! Even in London we can hear joyous & excited sounds of VICTORY. It was nice to see Sonia Gandhi minus her composure.
Priyanka Chopra: Oh my god! What a show of class Team India! The world cup awaits you in Mumbai! Can you hear the unified sound of pure joy… Indiiiiiiiaaaa!
Shekhar Kapur: The best 2 teams now in World Cup finals. Look forward 2 grt final.
Genelia D'Souza: For all d criticism Dhoni got for his intial decision, I think it is time we all give him his due..Raina was fabbb and my favourite for today today,Team INDIA take a bow
Shabana Azmi: It's embarrassing but in spite of myself I'm CRYING! Congratulations Indian team!
Diya Mirza: YAY YAY YAY! Well played Pakistan! Congratulations India! Proud to see the camaraderie and respect between both team.
Konkona Sensharma: Thriiilllleeeed!! But little bit feeling bad also for Pakistan..
Madhur Bhandarkar: India outclasses Pakistan at Mohali. Mumbai, get ready for the biggest roar of the season – Ind v/s Sri Lanka in th 2011 World Cup Finals.
Genelia D'Souza: We wonnnn.. We freakin won.. Welllllll done our heroes.. Yippppeeeeeee .. Bring on d finals nw..
Sonakshi Sinha: We have won. Bolti bandh.
R. Madhavan: The BEST part was 2 see the camaraderie and mutual respect between the 2 teams- Not long B4 the two nations feel the same. God willing.
Riteish Deshmukh: Hum jeeeeeeeeeeettttttt gayeeeeeeeeeee. Mubaaaarkaaaa mubaaarkaaaaaaaa INDIA
Neil Nitin Mukesh: What a win! What a match!
Sophie Choudry: Well played Pak & yes I do think Afridi is a fantastic player but team India ROCKS!Yaay!My shoot came 2 a standstill last 3overs!Haha!Awesm!
Aftab Shivdasani: Indiaaaaaaa take a bowwwwww! Jai hind!