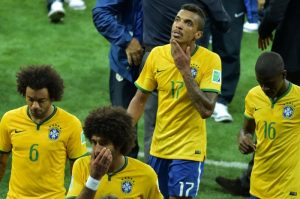 Sao Paulo: Brazil`s national media quickly dubbed the football team`s 7-1 defeat to Germany on Tuesday the "Shame of Shames" and the most humiliating defeat in the squad`s history.
Newspapers and TV commentators called the defeat the "Mineirazo," an allusion to the Mineirao Stadium in Belo Horizonte and Brazil`s traumatic Word Cup defeat at home in 1950 known as the "Maracanazo."
The sport`s daily Lance called Tuesday`s crushing loss "The Biggest Shame in History."
"The Maracanazo becomes nothing and literally a thing of the past," the newspaper said on its website.
The top of Folha de Sao Paulo newspaper`s website was titled "Historic Shame" after Brazil suffered its worst defeat in the national team`s 100-year history.
"Brazil is humiliated again trying to win the cup at home," the daily said.
The G1 news website quotes Brazilian manager Luiz Felipe Scolari saying "catastrophic result".
Its sister sports publication Globoesporte.com called it the "Shame of Shames".