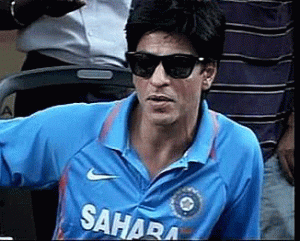 Bollywood superstar Shah Rukh Khan said "Chak De!" on the Indian cricket team winning the cricket World Cup in a thriller against Sri Lanka here Saturday.
"Chak De India," Shah Rukh exclaimed in front of media at his Bandra residence after the team picked up the trophy.
Until India winning the World Cup the tattoo 'D' in his hand was meant for "Don 2" but from now it would mean skipper M.S. Dhoni, said the actor.
"Now the tattoo 'D' would mean Dhoni," said Shah Rukh.