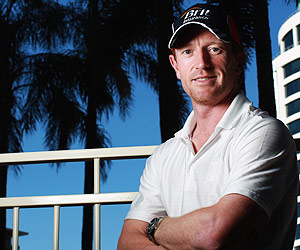 CHENNAI: England all-rounder Paul Collingwood has had an ordinary World Cup so far but has ruled out any retirement plans from limited overs cricket.
Collingwood, who retired from Tests after England's historic Ashes triumph in Australia, has scored only 61 runs and picked a wicket in four matches.
"The reason I retired from Test cricket was to prolong my One-day career and I still feel I have major contributions to make. I am still the Twenty20 captain. I want to continue that as well and it (retirement) is not in my mind," Collingwood said Monday ahead of the match against the West Indies here Thursday.
England, as a team, has experienced a rollercoaster ride in the tournament. They lost to Ireland and Bangladesh and survived a scare in their opening match against the Netherlands. Facing the higher-ranked nations, they got the better of South Africa, drew with India in Bangalore and now are in a must-win situation against the West Indies if they are to qualify for the quarterfinals.
When asked whether fatigue is a factor behind England's inconsistent show, Collingwood said: "We can't make that an excuse. For the players, it is like having two Olympics back-to-back. You wait for these things to come around every four years, the Ashes in Australia and then a World Cup, and to have them so close together is not ideal. But it is changing the next time around, which will be better."
"Now, we have to concentrate on the next games, our confidence, our strength as a team. I think we have played well in these conditions at times."