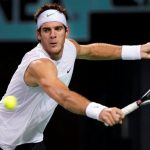 Sydney: Argentina's US Open champion Juan Martin Del Potro looks set return to tennis at the Sydney International in January after ending his 2010 season early due to injury, officials said.
Del Potro, who beat Roger Federer to win the 2009 US Open but has this year been unable to shake off a troublesome wrist injury, has been granted a wild card entry for the Sydney tournament.
The Argentine ended his season early in late October after missing all but three events of 2010 because of the wrist complaint.
Tournament organisers said seven of the world's top 10 women — including world No.1 Caroline Wozniacki — will compete at the January 9-15 event in Sydney which serves as a warm-up to the Australian Open.