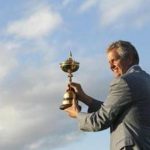 London: The US PGA Tour no longer represents the best source of world ranking points, eight-times European number one Colin Montgomerie said.
European golf, which now boasts seven of the world's top 11 players, has caught up the once-dominant PGA Tour and is now at the peak of its powers.
"This is the greatest time we've ever had so why the need (for the players) to go to America the way it was five years ago? The need is not the same," Montgomerie told reporters.
"If you're talking world ranking points that these guys are after, the need doesn't arise to go to America. There are more points available in Europe," added the triumphant Ryder Cup captain from the match against the US in Wales two months ago.
"World rankings are a very important part of our game and to think at the Abu Dhabi Championship nine of the top 10 in the world are going to play there," Montgomerie said of the January 20-23 European Tour event where only Tiger Woods from the top 10 will be missing.
In recent weeks world number one Lee Westwood, third-ranked Martin Kaymer and number 11 Rory McIlroy have turned down PGA Tour membership.
"I think it's super that a number of them haven't taken membership of the PGA Tour," said Montgomerie who has won 31 times in Europe.
"It's a very positive note for us all here in Europe," added the 47-year-old Briton who is hoping to cash in on a return to form in the United Arab Emirates next month.
"The world points available in Abu Dhabi will be extreme. That's why I've entered, to get back into the top 400," the world number 398 joked.
Montgomerie has not won since 2007 but after flying a wedge close on the famous par-three seventh hole at Pebble Beach in California on a simulator in London's financial district, the good times and big money could yet return for the Scot.