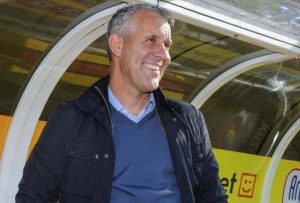 Ahead of their clash on Wednesday, Delhi Dynamos coach Harm van Veldhoven sounded warning bells to NorthEast United FC, saying he wants more goals to continue the momentum.
Coming off a terrific 4-1 victory against Chennaiyin FC, Veldhoven warned his players against complacency.
"I would want my players to continue the momentum. We beat Chennaiyin FC 4-1 in our previous match. We want to score goals tomorrow also. That would compensate our scoring of just one goal in our first two matches," Veldhoven said at the pre-match press conference.
"We played very well against Chennaiyin FC but in football you never know. We cannot be complacent and we have to see that we build on the momentum," he added.
He said, with the teams having played a few matches in the tournament, it has become easier to work strategy against opponents
The former manager of Roda JC, Van Veldhoven said it has become easier to form strategy against opponents with the teams having played a few matches in the tournament.
"At the beginning of the tournament, you don't know the playing style of teams and the players. But now all the teams have played a few matches and it is a bit easier to prepare ourselves against our opponents," said the Dutch coach.
The coach also said that the Indian players in his team have performed impressively and are gelling well with the overseas imports.
"We have Steven Dias, Shylo (Malswamtluanga), Souvik Das and Anwar Ali and I am really happy with their performance. They are gelling well with the international players and learning a lot for themselves. This will be good for the national team," he said.
NorthEast United FC would not be an easy side to play against for the Dynamos. Many of the players are part of the I-League side Shillong Lajong and have been playing together for quite some time.
When asked if it would give a certain amount of advantage to NorthEast United FC, Veldhoven said: "To a certain extent yes, but after five or six games, every team will be the same. Their will be no advantage by then."
Veldhoven also reserved some praise for his 6 feet 10 inches goalie Kristof van Hout, saying the Belgium was an added advantage to his team.
"Hout is a very important part of my team. It is a big advantage that we have him under the bar. When you see his reach when he stands under the bar with his hands spread, then the opposition players will have to be really accurate in their shots to go past him," the coach said.
"He is also good on his feet and he can give accurate passes to the team-mates from his position. So, he has a bright future," he said.