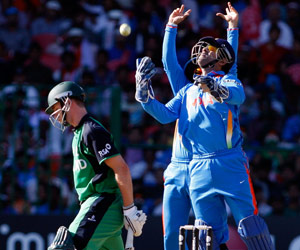 BANGALORE: Indian skipper Mahendra Singh Dhoni said that though their bowling is slowly improving in the 2011 World Cup, the fielding continues to be a cause of worry.
Dhoni, who has been a vocal critic of the team's sloppy fielding, said the players need to raise their standards.
"We got ourselves in a great position after losing two early wickets. An extra 40 runs would have been interesting. We are a fighting side. We got three early wickets, there was spin in the pitch," Dhoni said after India defeated Ireland by five wickets.
"Everyone got a chance to bat, everyone was under pressure, it was very good exposure for the batsmen. We are showing signs of improvement in bowling. Our good fielders can get better, the slower fielders will remain the same."
With the victory, India climbed to the top of Group B with five points from three matches. They beat Bangladesh in the first match and tied with England in the second. India next play the Netherlands in Delhi March 9, South Africa in Nagpur March 12 and the West Indies in Chennai March 20.
"There are three games left, there's no reason we can't beat any of those teams."
Dhoni praised Ireland for giving the hosts a tough fight.
"I think the Irish fielders backed up their bowlers very well. Ireland made 207 but looked like 240."