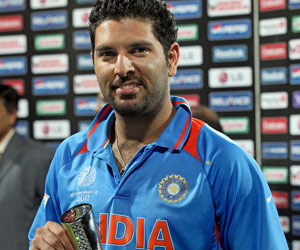 BANGALORE: Star cricketer Yuvraj Singh, who steered India to a comfortable win over Ireland with his all-round performance, hoped to play a key role in the upcoming big matches in the ICC World Cup series.
"It's been a very good day for me as I was in form with bat and ball. I am happy to have stayed till the end to finish off the game on a winning note," a beaming Yuvraj told reporters after India beat a defiant Ireland by five wickets in 46 overs in Group B fixture at the Chinnaswamy stadium in this tech hub.
Though elated over his maiden five-wicket haul, a first in the World Cup, Yuvraj sought to down play the rare achievement by saying he was only a part-time bowler and trying to do his bit for the team when regular pacers and spinners were not able to deliver as expected.
"You can say it was my day though it may not be like that every day. But you can't equate me with a world class spinner like Bhajji (Harbhajan Singh) and upcoming spinners like Piyush (Chawla). I just tried to put brakes on Ireland when they were trying to consolidate after losing two early wickets," the south paw asserted.
Admitting that the team had lot more to do in all departments for winning the remaining three league matches and subsequently to lift the World Cup, Yuvraj said it did not matter if he bats in the fourth, fifth or sixth slot as long as he plays well and stays till end to post a big score or chasing to win.
"If we have to prove that we are a good team we have to win all the matches irrespective of whom we are playing against. As an all-rounder, I have an important role to play in the team, more with the bat than ball, as I am only a part-time leg bowler who tries to make up for other bowlers," Yuvraj clarified.
Asked he had cemented his place in the team with a match-winning performance by scoring a successive 50 after a similar knock against England Feb 27, Yuvraj said he was finding his form to be in good nick so that he could build partnerships and last till the end for putting up or chasing big scores.