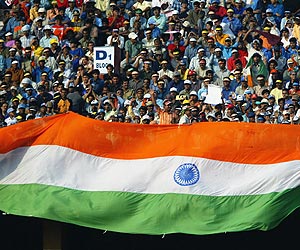 KOLKATA: There is at last some good news for the cricket-loving public of Kolkata, who were left disappointed after the iconic Eden Gardens lost out on the crucial World Cup match between India and England Feb 27.
The hallowed ground has now been allotted a Twenty20 match between India and England and an ODI international with either England or West Indies this year.
Disclosing this at a media meet here, Cricket Association of Bengal (CAB) president Jagmohan Dalmiya Thursday said he has received a letter from Board of Control for Cricket in India (BCCI) secretary N. Srinivasan allotting two matches to Eden Gardens.
"I have received a letter from N. Srinivasan which states that Eden Gardens has been allotted a Twenty20 match between India and England and also a One-day international with either West Indies or England," said Dalmiya.
"The T20 match will be held in October-November this year, the time for the ODI has not yet been given," said Dalmiya.
The India-England World Cup group B match was shifted to Bangalore due to unpreparedness of the Eden Gardens, which would not get any game featuring India in the big event. The stadium will now host its first World Cup match March 15 between South Africa and Ireland.
"The letter stated that everyone at BCCI shared the sentiments of the people of Kolkata as it was unfortunate that they could not see the India-England World Cup match of February 27," said Dalmiya.