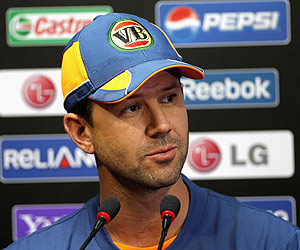 NAGPUR: With New Zealand planning to open the attack with spin at one end in their World Cup Group A match here Friday, Australia's captain Ricky Ponting asserted that his batsmen have the ability to handle spin.
Despite their envious record against New Zealand in the World Cup, Ponting knows that left-arm spinner Daniel Vettori and offie Nathan McCullum can pose problems for the defending champions in the day encounter at the Vidarbha Cricket Association (VCA) Stadium in Jamtha.
"New Zealand have two good spinners in their side. As the tournament goes on we have to play more spin, specially in the big games. I am confident about my team's ability to handle spin. If you look at our record in the sub-continent over a long period of time you can see that we do play well in these conditions," said Pontingm on the eve of the match.
"We faced 38 or 39 overs of spin the other day against Zimbabwe, it is a little bit unusual for us. New Zealand may open the bowling with spin and we are prepared for that. We know the areas that we have to improve after the last game. World Cup is not just a matter of one game, we have to make sure that we keep improving as we go through and play the best when it matters the most," he said.
Ponting admitted that lack of left-handed batsmen in their top-six is a concern for the team.
"To be honest it is not the ideal way. We could have two left-handed batsmen in our top-six if Shaun Marsh and Mike Hussey were not injured. It is nice to have a left-right combination to break the rhythm of the spinners. We have a left-hander in Mitchell Johnson and we will make him bat up the order, I am sure he can do it if the situation required," he said.
Asked whether Australia are feeling the pressure, Ponting said: "If we play and perform well we don't have to think much about the pressure. In fact it is India which will feel the pressure of playing at home as favourites."
Ponting added that he would discuss with his New Zealand counterpart Vettori on paying tribute to the victims of the earthquake that struck Christchurch Tuesday.
"I will talk to Daniel tomorrow during the toss on how we can show a little gesture to those affected in the earthquake," he said.