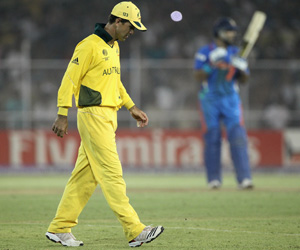 AHMEDABAD: Australia had to finally concede the crown. Champions for the last three editions (1999 to to 2007), the Ricky Ponting-led team were defeated but not disgraced in the quarterfinal against the pumped-up Indians at Ahmedabad on Thursday. They return empty-handed after 12 years at the top. Defying odds and loss of form, Ponting showed tremendous character in his fighting century. But his best was not good enough as Indians squeezed home in style.
The loss signalled the end of the Australian era. Former international WV Raman said the writing was on the wall.
"It was coming. The Ashes loss was a terrible blow. They had a few outstanding performances in the last few years. Even in this World Cup, they performed in clusters. They were not the dominating team like they had once been," said Raman.
The left-handed batsman said the downfall was bound to come and the team was struggling to find replacements for great players like Shane Warne, Glenn McGrath, Adam Gilchrist and Mathew Hayden. "They were the big stars for Australia and came up with outstanding performances in big tournaments like the World Cup. Aussies were at the top for 20 years. It is difficult to stay at the top for so many years. Even in Thursday's match, they did not have a quality spinner like Warne. The team has been under pressure, particularly after the Ashes loss,'' he said.
Former India left-arm spinner SL Venkatapathy Raju said the Australian domination looks to have come to an end. "It is a cycle and they have dominated the world cricket for so many years. But then, like the West Indies, the downfall has started," he said.
Raju said with the likes of Warne, McGrath, Gilchrist and Hayden retiring, the Australians are struggling to find a match-winner. Ponting, too, had been in poor form. "He lifted his performance against India but ended up on the losing side. They don't have players of the same class as those great players," he added.
The former left-arm spinner said Asian teams had been challenging Australia since 1992, but it was the big stars who made the difference in summit clashes. "Asian teams had been in the finals since 1992, but the Aussies mostly emerged winners because of Warne, McGrath, Gilchrist, Ponting and Hayden," he said.