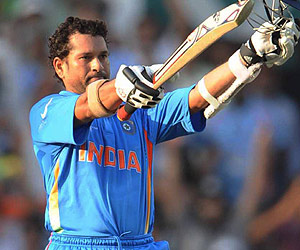 KARACHI: Pakistan captain Shahid Afridi predicted that Indian batting maestro Sachin Tendulkar will have to wait until after the World Cup to reach the milestone of scoring 100 international centuries.
"Sachin will have to wait until after the World Cup for his 100th international century because we are not going to allow either him or any other Indian player to play a big innings," Afridi told a newspaper.
Tendulkar has been in prolific form in the World Cup and completed 18,000 runs in one-dayers in the previous game against Australia. He needs just one more hundred to complete 100 international centuries, the first by any batsman.
Pakistan will take on India in the second semifinal of the World Cup to be held in Mohali on March 30 and Afridi said he was confident of his side beating India.
"It is a game of cricket and both teams can lay claim they will win the semifinal but given our current form, I am confident we can beat India," Afridi said.
Admitting that his teammates wanted to face India in the semifinals, the skipper said, "The players wanted this clash and we are looking forward to it. We know the expectations are high but at the end of the day, I have told the players that the team which controls and keeps its nerves in such a high tension match will prevail."
Afridi also felt that the pressure on India would be far more in the semifinal as compared to Pakistan as they would be playing in front of their home crowd.
"Normally whenever both teams play, there is great pressure because of the high expectations of the people but this time India are playing in front of their home crowd and the pressure will be greater on them," he said.
Stating that his players were under no pressure because of the fact that Pakistan had never beaten India in a World Cup match before, Afridi said, "That is history and this team has a habit of changing history. More importantly, the winning momentum we have got, it allows the players to be better prepared for the big match."
The flamboyant all-rounder also made it clear the players were not feeling the pressure of having to go and play in India after a gap of nearly four years.
"We have a young team and many of our players have not played in India before but it is not a problem for them because they have become used to playing even home matches abroad. I am confident they can handle the pressures of playing in India."
Afridi, meanwhile, also appealed to the fans to treat this high-profile clash between the neighbours as just another cricket match.