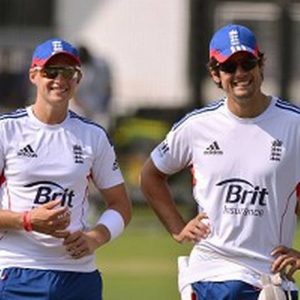 England batsman Joe Root picked out under-pressure captain Alastair Cook for special praise as England closed in on an emphatic victory in the third test against India on Wednesday.
Cook, who has faced calls to resign the captaincy from former players including Michael Vaughan, Kevin Pietersen and Michael Atherton, hit 95 in the first innings and 70 not out in the second to lead England to the brink of their first win in 11 outings.
"A lot of credit has to go to Cook with the way he set up the game with the bat. The pace and judgment of his (second) innings was pretty much down to a tee," Root told reporters at Southampton.
"The reason we were able to go in and play like a one-day innings was because of Cook. He won`t get a lot of credit from people but we know in our dressing room how big that was for us, and we`re in a great position now."
India lead the series 1-0 but will be battling to save the game when they resume on 112-4 on the final day on Thursday.
They are still 333 runs short of victory after Cook declared England`s second innings on 205-4 on Wednesday, setting the tourists 445 to win.
England`s senior players have been criticised for not performing to their ability in this series, and Root welcomed the all-round contribution of the team.
"It`s good to see a lot of guys back in form, with Ian (Bell) getting a big hundred and Jimmy (Anderson`s) five-for under his belt as well," Root said.
"Pretty much everyone has contributed and hopefully that can continue throughout the rest of the series. We`re really hungry for a win and we desperately need these six wickets tomorrow."