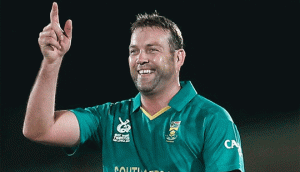 South Africa's Jacques Kallis retired from all international cricket on Wednesday, as one of the game's greatest allrounders admitted that a swansong at the World Cup next year was "a bridge too far."
The 38-year-old Kallis retired from tests and Twenty20s in December but remained available for one-day internationals in the hope of making the World Cup in Australia and New Zealand in February at the age of 39.
But he conceded on Wednesday that wouldn't happen, and said he came to his decision to give up all internationals after the recent ODI series in Sri Lanka, where he scored 0, 1 and 4 and didn't bowl.
"I realized in Sri Lanka that my dream of playing in a World Cup was a bridge too far. I just knew on that tour that I was done," Kallis said in a statement released by Cricket South Africa.
Kallis is widely considered South Africa's greatest player, and the best allrounder of the modern era.
"To say that we will miss him on the playing field is stating the obvious," CSA chief executive Haroon Lorgat said. "Each one of us from this day on will treasure the many fond memories of his awesome career."
Kallis gave up tests last year as the third-highest run-scorer behind India's Sachin Tendulkar and Australia's Ricky Ponting. He finished with a century in his final test to take his run total over an 18-year career to 13,289, one more than Rahul Dravid in fourth.
He also made 45 centuries in his 166 tests, which is second on the all-time list to Tendulkar's 51 hundreds. His average of 55.37 is better than both Tendulkar's and Ponting's.
As well as being a world-class batsman, Kallis also took 292 test wickets as a mean medium-fast bowler, placing him fifth on South Africa's list of most successful test bowlers.
He played 328 one-dayers, having made his debut in January 1996, and was seventh on the list of all-time run-scorers in the 50-over format with 11,579 runs. His 273 ODI wickets is South Africa's second-best career return.
Nicknamed "King Kallis" in his home country, his all-around ability even extended to fielding as he took 200 catches in tests _ joint second all-time _ and 131 catches in ODIs.
"It has been an amazing journey," Kallis said.
However, Kallis' outstanding career won't now end with a World Cup victory, the one accolade he longed for with South Africa yet to win the title.
Kallis said he would still play for Australia's Sydney Thunder on a two-year contract and hopes to appear in the Indian Premier League next year after winning it this season with Kolkata Knight Riders.
Former England allrounder Paul Collingwood wrote on Twitter "He scored runs for fun, swung it both ways, could hit you in the head and had hands like buckets. Congrats (at)jacqueskallis75 (hash)TheBest." Former England captain Michael Vaughan called Kallis the greatest ever allrounder.