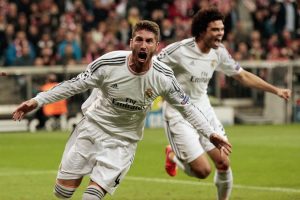 European champions Real Madrid are expected to field the world`s most expensive strikeforce – including local Welsh hero Gareth Bale – when they play Sevilla in the UEFA Super Cup at the Cardiff City Stadium on Tuesday.
Three months after winning the all-Spanish Champions League final against Atletico Madrid in Lisbon, Real and Europa League winners Sevilla meet in an all-Spanish Super Cup match with the home fans delighted to be able to watch Bale in his home city.
He joined Real for a world record 85 million pounds ($142.58 million) from Tottenham Hotspur a year ago and is expected to play in a 240 million pounds trio with Cristiano Ronaldo and James Rodriguez as the Madrid side seek to win the Super Cup for the first time since 2002.
Ronaldo signed for 80 million pounds from Manchester United in 2009 while Colombian Rodriguez, the Golden Boot winner at this year`s World Cup, cost about 80 million euros ($107.27 million) when he joined from AS Monaco after the finals.
Germany World Cup winner Toni Kroos, who has just joined Real from Bayern Munich for about 30 million pounds, could also be in action in an official match for Real for the first time.
While Bale will be relishing a return to his home town, Ronaldo is expected to start after working hard to shake off a knee problem that hampered his performances for Portugal at the World Cup in Brazil.
Sevilla's squad, by contrast, is worth just under 108 million euros, according to website transfermarkt.com, and they sold their best player, Croatia midfielder Ivan Rakitic, to Barcelona in June.
Centre back Nico Pareja is undaunted, however, and said on Sunday that he and his team mates had the same hunger that yielded the Europa League crown and a fifth-place finish in La Liga last season and were hopeful of an upset win.
"Of course Real are starting as favourites," Argentine Pareja told Sevilla's website (www.sevillafc.es). "But we have been working hard and we are ready to take the battle to them."
Although the match, like the English Community Shield, is a charitable curtain-raiser – in this case to the European club season – it does have wider significance for the Football Association of Wales (FAW).
The stadium – Cardiff City`s home ground – will be unveiled as a 33,000 seater venue for the first time, and the FAW hopes successfully staging the game will boost its chances of hosting matches in the continent-wide 2020 European Championship.