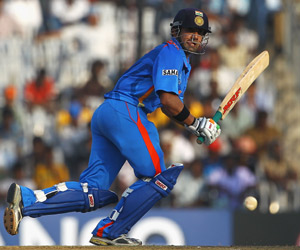 KARACHI: Former Pakistan captain Aamer Sohail rates Gautam Gambhir as India's most important player maintaining that the reliable opener can give India the edge over other title contenders in World Cup 2011.
The former Test opener said Gambhir is the vital cog in India's star-studded batting line-up because of his ability to play long innings.
"The most important player for India is going to be Gautam Gambhir because he has the ability to anchor an innings and allow the other players to play freely," Sohail wrote in his column for 'The News' Saturday.
Sohail is expecting India to be at its best in the World Cup, stressing the fact that it will be Sachin Tendulkar's last World Cup and his teammates will go all out to give him a great farewell.
"Sachin Tendulkar will be playing in his last World Cup. Tendulkar can inspire the Indians. He is a great cricketer and a demi-god in his country.
"The Indian team is going to rally around him and will try its best to make it Tendulkar's World Cup in a bid to give the legend a befitting farewell," stressed Sohail.
Sohail warned the top teams to beware of Pakistan and West Indies. "Four teams – Australia, South Africa, Sri Lanka and India – seem to have the best chances of reaching the semifinals.
"But personally, I believe that Pakistan and West Indies can really be dangerous teams. They've got experience. They've got talent. They've got match-winners. The only point is how hungry are they?
"The West Indians should feel at home playing in the sub-continent because the playing conditions will be pretty similar to that in the Caribbean. If they play as a team, anything is possible.
"Same is the case with Pakistan. If they can gel together and the players manage to give their best, they can go all the way."