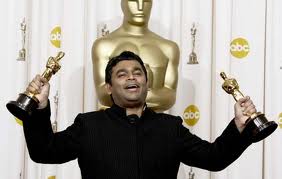 Today is a very special day for music lovers. It is the birthday of A.R. Rahman, one of the most talented and prolific music composers of Tamil cinema. The Mozart of Madras was born in 1966 as A.S. Dileep Kumar to R.K. Shekhar, a composer, arranger and conductor for Malayalam films.
Even when he was in school, he took up a part-time job as a keyboard player and arranger in private rock bands. The effect and prospect of mixing and presenting various sounds for concerts kindled his curiosity. The vast potential of music lured him and this interest sparked off the beginning of his journey into the world of composing. With eagerness to master the nuances and technicalities of music, he then enrolled with Master Dhanraj Pillai for proper training.
At age 11, he joined music director Ilaiyaraaja's troupe as a keyboard player. Simultaneously, he also played in several music directors' troupes and toured the world with great concert performers such as Zakir Hussain, L.Vaidyanathan and Ramesh Naidu. Learning from all these varied and valuable experiences, Rahman graduated from Trinity College of Music, London in Western classical music.
In 1991, he opened his recording studio in Chennai and began composing music for jingles and documentary films. Rahman began composing music for films with Mani Ratnam's Roja (Tamil) in 1992 after assisting Tamil film maestro Ilaiyaraaja for nearly a decade. He was awarded the Rajat Kamal award for Best Music Director at the National Film Awards for the film, the first time ever for a new film composer and since then, he never looked back.
The film was also listed in TIME's Top 10 Movie Soundtracks of All Time. Rahman went on to win the National Award three more times, for his scores for Minsaara Kanavu in 1997, Lagaan in 2002 and Kannathil Muthamittal, the most ever by any composer.
The music director is known for his versatility in classical, folk, jazz, reggae, soft rock and other styles in his pieces. Rahman's debut Hindi film was Rangeela. He has also been awarded the Padma Shri for his outstanding contribution to music. His music created a new trend, scaled astonishing heights of appreciation and grew to become a sensation.
Rahman's speciality lies in his experimentation. His is a well-knit combination of technology and art. The songs he compose illustrate the distinctly rich aspects of music, yet carry many contemporary motifs. He also launched the KM Music Conservatory to train Indians in world class music. Rahman's vision is to compose and present world-class orchestras in Chennai.
Beyond and above his musical talent, it is Rahman's great modesty that warms the hearts of listeners and fans worldwide. For his score of Slumdog Millionaire, Rahman won the Golden Globe Award for Best Original Score, the BAFTA Award for Best Film Music, and two Oscars for Best Original Music Score and Best Original Song.
Almost every time he receives an award or accolade, we have seen him attributing it to the Almighty. 'Ella Pughazhum Iraivanukke' is Rahman's most popular and most-liked prelude to his public speeches. He did this at the Oscars too.
Known for keeping his personal life away from the media glare, Rahman is married to Saira and has three children: Khatija, Rahima and Amin.
Some of his recent work includes Jodhaa Akbar, Jaane Tu Ya Jaane Na, Yuvraaj, Delhi-6 and Ghajini. Rahman scored music for the Mandarin language picture Warriors of Heaven and Earth in 2003 after researching and utilizing Chinese and Japanese classical music, and co-scored Shekhar Kapoor's Elizabeth: The Golden Age in 2007. He recently composed music Danny Boyle's 127 Hours, which was again nominated for the Golden Globe awards and the Oscars. Will Rahman repeat the Oscar magic again? Wait and watch!
Rahman's upcoming projects includes Lavender, Rockstar, Hara, The Desire, Paani and Bhag Milkha Bhag.
Happy birthday Dear Rahman sir!