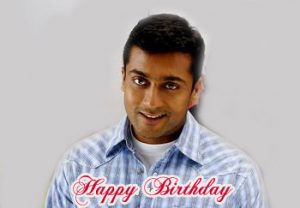 Handsome hunk and model hero of Kollywood Suriya is celebrating his birthday today. Surya is currently the hot star of Kollywood with continuous Box Office hits.
Suriya began his career with the film Nerrukku Ner in 1997 but he got break in his career with the film Nandha. His performance in the films Nandha, Pithamagan, Perazhagan, and Mounam Pesiyadhe set a new standard for him and brought Suriya a special identity.
Later on he went on doing films like Kaakha Kaakha, Pithamagan, Perazhagan, Ghajini, Vel, Vaaranam Aayiram, Ayan and Singam. All the films turned out to be box office hits and have created a special place for Suriya in Kollywood.
Surya is also currently the favorite co-star of many heroines not in Kollywood but also in other industries. Many leading ladies have expressed their desire to work with him.
From the soft romantic hero, he has metamorphosed into a larger than life six-pack super hero, and he is clearly the number 1, among the younger lot of actors.
In addition to his charismatic appeal comes his star wife Jyothika. The couple was blessed with daughter Diya and little son Dev. Suriya is a pucca family person and always balances his personal and professional in a brilliant manner. Together, the couple took part in many charitable events and Suriya himself owns Agaram Foundation, which funds for preventing early childhood drop-outs.
On the career front, Suriya is busy gearing up for the release of medical thriller 7aam Arivu. He has started his next film Maatraan yesterday. Later to this he is going to do a film with director Hari.
Bizhat wishes Suriya long years of exciting life and continue to bring new laurels to his career & reach new horizons.