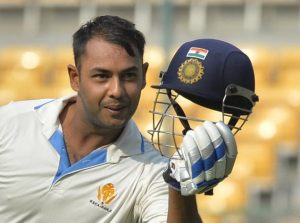 Nottingham: Having answered his critics with a match-saving 78, Stuart Binny expressed his pride and happiness on getting India out of a sticky situation in his debut Test.
"I was a bit disappointed with the way it went in the first innings. I did the hard work for the first 10-15 minutes, which is the most crucial phase for a batsman and then played a loose shot to get out. So today I just wanted to go in there and spend as much time in the middle as I could," Binny told bcci.Tv at the end of the match.
"The ball was reversing and wicket started doing a bit especially with the new ball. There are not many players, who get a chance to save the Test for their country on their debut. I did and I am really happy that I took it," the burly Karnataka all-rounder said.
Binny admitted that the Trent Bridge wicket didn`t suit his style of bowling but he was desperate to make amends with the willow.
"The wicket didn`t suit my style of bowling and I had to understand and accept that quickly. I was told that a Test match lasts five days that so I will be required to play a part at some point.
"So, I went in to bat with a very positive mindset. I knew that if I survived the first 30 minutes, the wicket would ease out. I went with the mindset of playing out balls instead of scoring runs.
When you get to 25, that`s when you realize, okay, a Test fifty is here for the taking," said the 30-year-old son of current national selector Roger Binny.
Binny however didn`t agree that the team management misread the wicket which was a dead track.
"I don`t think we misread it. It was a hard wicket but there wasn`t much bounce. Even the English guys were surprised at how it played out. When we were batting, it felt like we were batting in India. It was a funny wicket."
Binny also defended his partner Ravindra Jadeja's
defensive approach that saw the left-hander score his first runs off 38th delivery.
"Jaddu is the type of player who likes to play positive but today the requirement was to bat time. We spoke about just trying to put bat on ball, look solid and not lose our wicket at any cost.
"The game would have opened up had one of us gotten out at that time. It was all about watching the ball hard and batting for each other."
Binny feels that batting at No 6 for his state side Karnataka also helped him play reverse swing with confidence.
"To be honest, I never really put too much pressure on myself to play any format or at any level. I've always made sure that whatever cricket I am playing, I enjoy myself.
"I didn't think or not think about playing Test cricket. I just took it as it came. But at the moment I am really happy that I have a Test cap."