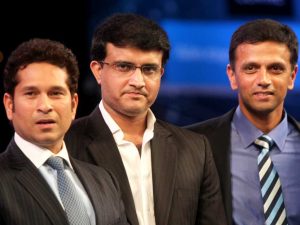 The first Test match between India and England in Nottingham may have ended in a tame draw but there was no dearth of scoffs and sneers during the five days whether it be between current players or former stars in the TV commentators box.
On Day 4 of the Nottingham Test match when Joe Root and James Anderson were about to make history by posting the highest-ever 10th-wicket stand (198 runs), former Test captains Rahul Dravid and Sourav Ganguly were involved in some serious fun. The topic was: Was Sachin Tendulkar a better bowler than Ganguly?
The debate was 'ignited' by Harsha Bhogle and 'fuelled' by Dravid. When Bhogle said Tendulkar had more Test wickets than Ganguly, it invoked a strong rebuttal from an exuberant Prince of Kolkata.
Someone who never threw in the towel, Ganguly argued that Tendulkar's wickets had actually come on turning tracks in India. "I wish I knew how to bowl a little bit of spin," said Ganguly, with a smile. Dravid, the mediator, added some 'spice' to the whole conversation and suggested maybe, he had under-bowled Ganguly as captain during India's 2007 tour of England.
Some statistics on the screen showed Ganguly had taken two wickets during that tour when India won the three-match Test series 1-0 while Tendulkar took just one. Ganguly had even bowled lesser overs (28) as compared to Tendulkar's 38.
"On pitches, where you needed skill, look at my economy…perfect fifth bowler's job," said Ganguly as the screen reflected an economy rate of 2.3 compared to Tendulkar's 4 on the same tour.
Adding more fuel to fire, Dravid said, "Sanjay Manjrekar made a point in the commentary box…(Had) Ganguly been just a yard quicker and a little bit fitter, he would have been a match-winner…," Ganguly didn't wait for Dravid to complete and snapped back: "I wish I had been the Prime Minister of India. I could get a lot of results my way with that." Bhogle tried to put a nice end to all of it saying, "I don't want to be in this conversation. This is serious sledging."
Ganguly reminded Dravid about his role as bowler when India won a Test match at Trent Bridge in 2007 after 26 years. After he had won the toss and England were scoring at 6-an-over, Dravid summoned Ganguly's medium pace. A defensive Dravid said: "I am not denying that. If only Ganguly had not been tired after 5-6 overs, I would have bowled him for much longer spells."
Known for amazing ability to remember numbers and stats, Ganguly immediately countered Dravid: "I request the production team to get this spell out. I bowled 10 overs on-the-trot and (bagged) one for 15…I have seen biased people but not as much."
However, the jibes never seemed to end. Bhogle suggested that the reason why Dravid had under-bowled Ganguly was because the left-hander had made him keep wickets as captain. Dravid quickly moved away requesting Bhogle not to needle (Ganguly) any further.
The conversation could go on and on but the commentators had to focus on the job ahead, that of Root and Anderson making a 10th wicket history. India ended up drawing the match against England after being in a winning position.
All the gibes actually started in the final session on Day 2 when Wasim Akram compared the English bowlers to men trying to grab chickens. Mohammad Shami and Bhuvneshwar Kumar put on a 111-run stand for the 10th wicket to take India to 457 in the first innings.
Later, on Day 4, former captain-turned-commentator Michael Vaughan gave critics of English pacers a taste of their own medicine when he said the Indian bowlers had a policy of not aiming at the wicket ever. The banter never seemed to end!