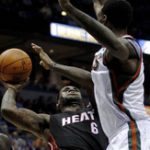 The Miami Heat are starting to look more like the elite team many envisioned in the off-season as they defeated the Milwaukee Bucks 88-78 on Monday for their fifth straight win.
Dwyane Wade had a team-high 25 points and a career-high 14 rebounds while LeBron James added 17 points as the Heat continued to play inspired defense in achieving their longest winning streak of the season.
Miami (14-8) had a rough start to the campaign and fell well short of the expectations created when James and Chris Bosh signed with the Heat to join fellow All-Star Wade, but have found their rhythm since a players-only meeting a week ago.
In the opener of a four-game road trip, the Heat never trailed and held the Bucks to 34 percent shooting from the field.
"That's what it's about and that (defense) is the identity of the team," Wade told reporters. "Offensively we can't control if the ball is going to go in or not. We still have to get the stops."
Corey Maggette had 20 points off the bench to lead Milwaukee, which fell to 7-13 on the season.
The Heat led by 13 points late in the third but the Bucks trimmed it down to 74-71 midway through the fourth. Miami answered with three straight baskets from James, Wade and Bosh, who finished with 16 points and 12 rebounds.
"There was a mental toughness to this win for us that I'm not sure we would have been able to pull this out earlier in the year," Heat coach Erik Spoelstra said.
Australian center Andrew Bogut had 11 points and 13 rebounds in his second game back for the Bucks after missing five contests with back problems.