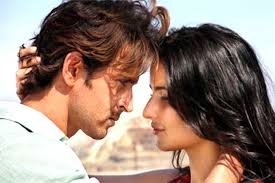 All the plans made by the makers of the movie Bang Bang got jeopardised, due to actor Hrithik Roshan's head injury treatment in the US. Reportedly, the makers of the film have incurred due to the cancellation of the shoot. As per a leading daily, the makers of Bang Bang had planned to shoot a song, that was supposed to kick-off from November 27, this year.
Reportedly, a huge set was set up at Goregaon's Film city for the nine-day schedule for the song picturisation, that was supposed to feature Hrithik Roshan and Katrina Kaif in it. Sources told the daily that the set costed more than a crore. But, all the plans got jeopardised, after Hrithik had to fly to the US for a brain surgery. Following this, the production house had to face a huge loss.
Hrithik, Katrina's Bang Bang Suffer Losses! Sources informed the daily that it's mostly the insurance company takes care of such losses due to postponement or cancellation of shoots. Yet, the production house has to make the payment for the location of the set from the day it has been blocked to the last day of the shoot. "So they still have to incur some loss for the cancellation of the shoot," a source told the daily.