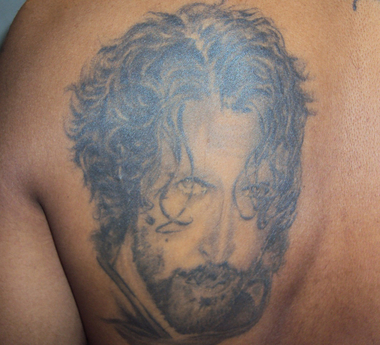 It is learnt that Sachin Bhathnagar, a married man from Delhi, has flown down all the way to Mumbai to get Hrithik Roshan's face inked on his back.
A source reveals, Initially, he wasn't taking off his shirt in front of his wife for a few days. But how long could he hide it? When she finally saw the tattoo, his back was swollen and red. Hrithik's picture staring in front of her eyes added to her shock. Now, Rekha is okay with it. ,adds the source.
Bhathnagar Yes, Rekha is okay now. In fact, she even applies the cream, which I need to put on the tattoo. Mera haath nahin pahunchta meri peeth par.
His wife Rekha shares the same passion for Hrithik too. Bhathnagar said, Yes. She likes him because I like him. I have seen all his films several times. I wanted to be a part of the dance show Hrithik is judging. I went to Mumbai for that too, lekin kuch hua nahin. Frankly, I was expelled in the preliminary audition stage itself.