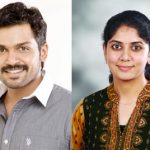 It's no doubt an arranged marriage. But Karthi Sivakumar, who will tie the knot with Ranjani on July 5, says he is now in love with his bride-to-be and admires her qualities a lot.
"Though I took a decision long back that my parents should select my life partner, I was little hesitant before I met Ranjani. But once I conversated with her for an hour, I was totally convinced," he says.
"Ranjani hails from a village background, but she knows the city life well. She has in-depth knowledge in many a subject," says Karthi on her future spouse, who is a gold medalist in English literature.
The actor adds: "I should thank my parents for taking pains to select a life partner for me. Though a section of the media carried some gossips about me, I had always maintained that I was not seeing anyone in the industry. It is proved now."