107806707.jpg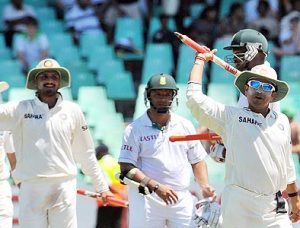 India scored a historic Test win in Durban, a venue where had fared poorly at in the past, and levelled the series 1-1 with a game left in Cape Town. Needing 303 to win this game and the series, South Africa were bowled out for 215.
With Zaheer Khan's return, India had a rejuvenated bowling attack in this game. The veteran seamer took six wickets in the match, including 3-57 in the second innings while S Sreesanth hit top form taking 3-45.
Sreesanth began the day in fine style for India when a vicious bouncer aimed at Jacques Kallis' nose was fended off Virender Sehwag behind the wicket.
India had some luck with the umpiring decisions today. Harbhajan Singh bowling over the wicket got AB de Villiers LBW. Hawk Eye suggested the ball would have gone well over the stumps.
The dangerous Mark Boucher was dismissed quickly by Zaheer. Umpire Steve Davis gave the LBW but replays showed the ball was missing off-stump.
With the ball reverse-swinging, Zaheer worked out the lower-order.
The win was set up primarily by the batting exploits of VVS Laxman, who is the only man in the Test match to cross 40. In the first innings he made 38, following it up with 96, mainly batting with the lower order.
Harbhajan showed good form, taking 4-10 in the first innings giving India a substantial lead of 74 in a low-scoring game.