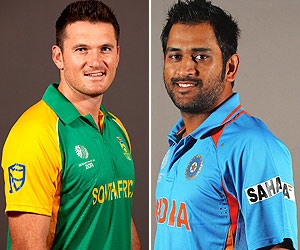 NEW DELHI: India heads to Nagpur for a World Cup Group B fixture against South Africa on Saturday, with both teams needing to lift their games after less than convincing starts.
Co-host India made heavy weather of chasing modest totals against Ireland and the Netherlands before completing identical five-wicket wins.
An earlier victory against Bangladesh and a tie with England has virtually assured it of a quarterfinal berth with seven points from four outings.
South Africa, which has four points from three games, is one of the most balanced sides but has shown its propensity to squander winning positions.
After big wins over the West Indies and the Netherlands, it bowled England out for 171 but still lost by six runs.
Captain Mahendra Singh Dhoni will be looking to live up to Indians' demands to win back the World Cup after 28 years.
Dhoni was positive, despite his team's stuttering performances in chasing targets of 208 against Ireland and 190 against the Netherlands.
"If you see the scorecard, it says India won by five wickets," Dhoni said after the win against the Netherlands on Wednesday. "We now have to play two of the better sides in the league, so it is important that we get into the momentum."
India's last group match is against the West Indies at Chennai on March 20.
"One of the things we wanted to do was to take the run-rate up against the so-called weaker sides. If batsmen play aggressive shots, they are likely to be out. It was just one of those times for us," said Dhoni.
The Sachin Tendulkar-led India batting lineup has not been at its best, while the bowling attack is not settled.
Senior bowlers Zaheer Khan and Harbhajan Singh are the only ones to have played in all games while off-spinner Ravichandran Ashwin has not been tried yet.
"Ashwin definitely deserves a chance, but we have to consider a lot of things while picking a side. It is not our batting or bowling alone, the surface also has to be considered," said Dhoni.
South Africa, which missed a big knock from AB de Villiers against England after two consecutive centuries, is likely to be without Pakistan-born leg-spinner Imran Tahir because of a finger injury.
But it has several players with experience on the sub-continent.
"We have played against India in a number of games over the past few months, we know more of less what to expect or what is going to happen," said pace bowler Morne Morkel. "The World Cup will have its pressure moments and it is just a matter of who will handle the pressure situations the best."
India narrowly lost a recent one-day series in South Africa 3-2, but it was missing its top order of Sachin Tendulkar, Virender Sehwag and Gautam Gambhir.
South Africa was without allrounder Jacques Kallis in that series.
Morkel said the experience of playing in Nagpur could help the team.
"From what I remember from the pitch, the key will be to get the ball to reverse swing as quickly as possible," said Morkel, who forms a pace combination with Dale Steyn.
Teams
India
MS Dhoni(Capt. and WK), V Sehwag, SR Tendulkar, Yuvraj Singh, PP Chawla, G Gambhir, Harbhajan Singh, Z Khan, V Kohli, A Nehra, MM Patel, YK Pathan, SK Raina, S Sreesanth, R Ashwin
South Africa
GC Smith(Capt.), HM Amla, J Botha, AB de Villiers†, JP Duminy, F du Plessis, Imran Tahir, CA Ingram, JH Kallis, M Morkel, WD Parnell, RJ Peterson, DW Steyn, LL Tsotsobe, MN van Wyk(WK)
Match details
Umpires
IJ Gould(England)
SJA Taufel(Australia)
TV umpire
BR Doctrove(Wets Indies)
Match referee
RS Madugalle(Sri Lanka)
Reserve umpire
HDPK Dharmasena(Sri Lanka)