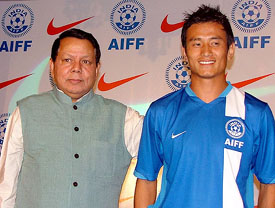 The Indian senior football team will play two international friendly matches against Palestine in October later this year, All India Football Federation (AIFF) said on Tuesday.
The Indian team would play the FIFA ranked 85th side on October 6th and 9th but the venues are not yet disclosed.
India, which is currently ranked 151st in the world, last played the recently-crowned AFC Challenge Cup champions in February 2013 in Kochi where it lost by a 2-4 margin.
The under-23 Indian team will also play two friendlies with Pakistan on August 17 and 20 in Bangalore in run up to the Asian Games starting on September 19.