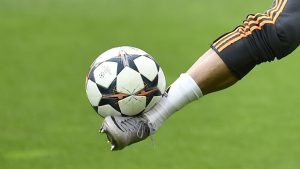 Delhi Dynamos FC, the national capital`s football team for the Hero Indian Super League, announced the signing of Danish international strikers Mads Junker and Morten Skoubo on Tuesday.
Both Junker and Skoubo have in the past excelled under the team`s coach, Harm Van Veldhoven, at Roda JC in the Dutch Eredivisie, and share a great understanding which is critical for a strike partnership.
Junker has scored over 130 goals at the highest level in European football. A true team player, he is tactically strong, and can play either as a 9 or a 10 in attack formation.
Junker has been part of the Denmark national team set-up from youth level onwards. He has featured in Euro Cup Qualifying games, and has even scored a goal against European powerhouse Germany in 2010.
Junker has won the Danish Superliga and the Danish Cup with Brond by FC. A prolific goal scorer, he has scored 68 goals at the top level of Dutch football – a league that has boasted the likes of Robin Van Persie and Luis Suarez. In fact, in Luis Suarez`s record breaking 2009-10 season (35 goals), Junker scored 21 goals in the Eredevisie.
Skoubo has over 15 years of experience playing in the top leagues in European football. Tall and physically strong, Skoubo has great heading ability. He is one of the few players who can boast of experience in most of the major leagues in Europe including England, Spain, Germany and Netherlands.
Commanding 5.46 Mn. GBP in career transfer fees, Skoubo has featured for Real Sociedad in Spain, West Brom in England and Borussia Mönchengladbach in Germany. During the 2005-06 season, Skoubo scored 5 goals in La Liga, 3 goals in the UEFA Cup, as well as a goal in Champions League Qualifying.
In February 2006, he scored the fifth fastest goal in La Liga history in just 11 seconds against Valencia. Skoubo has been part of the Denmark national team setup at both U21 and senior levels.
With the two international strikers coming on board, this is another major step for Delhi Dynamos FC as they continue with the process of building a world-class team for the inaugural session of Hero Indian Super League.
With an experienced coach in Harm and an alliance with Dutch powerhouse Feyenoord Rotterdam, Delhi Dynamos is working towards its mission of building a strong, credible team and developing football into a leading sport across Delhi and Northern India.